Devil?s Punchbowl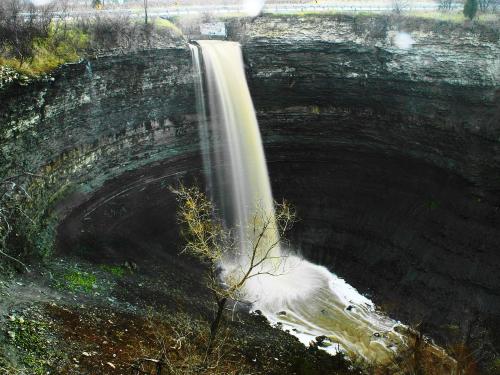 The history of the Devil's Punchbowl dates back to over 450 million years ago. It was formed throughout the years by many glacial waters; it withholds different layers of colorful stratified rock segments. The falls drops about 108.25 feet. Another monument that is considered part of the Devil's Punchbowl is the ten-meter high cross that overlooks the Stoney Creek community and Hamilton Harbor. This cross was made in December 18, 1966 in memory of George Sinclair (George Sinclair Homes) by his son William Sinclair (1925-1994).[4] He built the cross to bring light to the community. Originally the cross was only planned on being lit up during Christmas and Easter for six weeks. However, with the help of the donations from the Knights of Columbus the cross lights up automatically every night. There are numerous stories surrounding in how Devil's Punchbowl got its name, some believe that individuals that God would not want his creation named after him instead, he named it after the "devil." Another assumption states that moonshiners set up their wares on the road leading up to the Punchbowl, when the workers got thirsty they would go up to the falls to get some cold water. The moonshiners were viewed as individuals that did "devil's work" giving the monument its current name today.
Albion Falls - info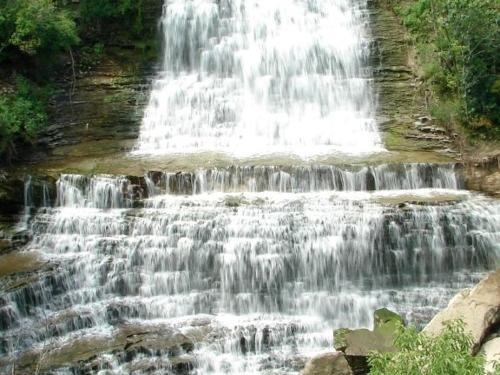 Albion Falls is a 19 m (62 ft) classical/cascade waterfall flowing down the Niagara Escarpment in Red Hill Valley, in Hamilton, Ontario, Canada. With cascade falls the downpour is staggered into a series of steps causing water to "cascade". The top of the falls are located on Mud Street. The lower-end of the falls can be found at the south-end of King's Forest Park in lower Hamilton by following the Red Hill Creek south towards the Niagara Escarpment.
Albion Falls was once seriously considered as a possible source of water for Hamilton. Rocks from the Albion Falls area were used in the construction of the Royal Botanical Gardens' Rock Garden
Albion Falls - Lovers' Leap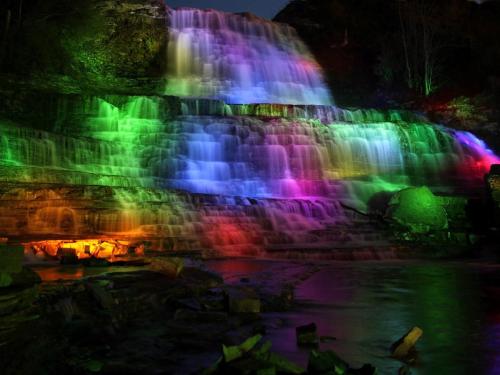 The falls were supposedly the site of a suicide, and are allegedly haunted. The ravine at the Albion Falls has a legend of the Lover's Leap. The story is that early in the 19th century young Jane Riley, disappointed in love with Joseph Rousseau, stood at the top of a steep cliff not far from thundering Albion Falls and flung herself to the bottom 100 ft (30 m) below. The steep drop has since been dubbed "Lovers' Leap" and many tales have grown up about the suicide.